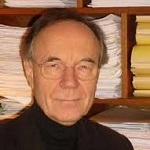 Theoretical econometrics
Statistical methods based on simulations
Econometrics of finance
Macro-finance
Alain Monfort est professeur émérite à l'ENSAE-CREST, ancien directeur du CREST, Fellow of the Econometric Society. Auteur ou co-auteur de nombreux livres et d'une centaine d'articles dans des revues internationales, il a notamment travaillé avec Jean-Jacques Laffont et Christian Gouriéroux. Il a reçu le prix de la recherche en économétrie décerné par la revue Econometric Theory (prix Koopmans) et a donné en 1994 l'Annual Lecture de la Cowles Commission organisée par l'université Yale.