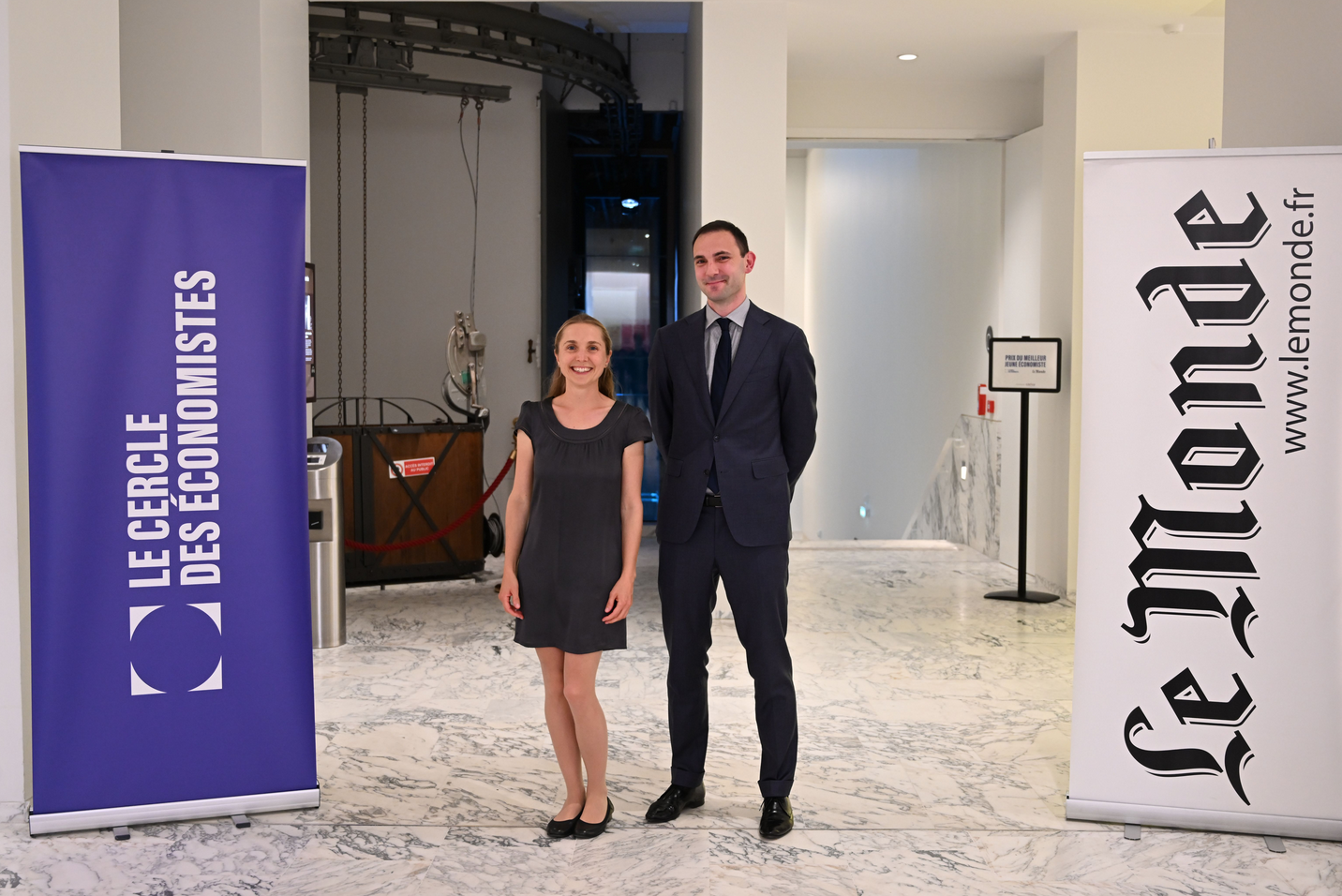 DEUX CHERCHEURS DU CREST NOMINÉS AU PRIX DU MEILLEUR JEUNE ÉCONOMISTE 2023
Le Cercle des économistes a publié le 22/05/20223 la liste des lauréats et nominés pour le Prix du Meilleur Jeune Économiste 2023.
Parmi les nominés, deux chercheurs du CREST, Pauline Rossi et Pierre Boyer, tous les deux professeurs au Département d'économie de l'École polytechnique.
Le Prix du Meilleur Jeune Économiste est décerné chaque année, depuis 2000, par Le Cercle des économistes et le journal Le Monde.
Ce prix valorise les travaux d'un économiste français ou affecté en France, de moins de 41 ans.
Le prix distingue :
L'excellence de la production académique des jeunes économistes français
La contribution au débat public
Pierre Boyer, nominé 2023
Pauline Rossi, nominée 2023

Pierre Boyer est professeur au Département d'économie de l'École polytechnique, chercheur au CREST et chercheur affilié à l'Institut des Politiques Publiques, au CEPR et au CESifo Research Network.

Parmi les thématiques qu'il aborde figurent les implications de la concurrence politique sur les priorités des politiques publiques et des cadres réglementaires (réformes de l'impôt sur le revenu dans les pays de l'OCDE, réforme européenne de la supervision bancaire), ce qui le conduit, par exemple, à étudier l'incidence des normes sociales sur la disposition à payer des taxes ou les effets du charisme d'un candidat politique sur le choix des électeurs. Ses recherches sont de facture principalement académique mais elles peuvent également aborder des sujets sociétaux d'actualité comme son article consacré aux déterminants de la mobilisation des gilets jaunes en France. Il a reçu de nombreuses bourses de recherche (ANR) et il est membre du Conseil des prélèvements obligatoires auprès de la Cour des Comptes.

Pauline Rossi est professeure au Département d'économie de l'École polytechnique, chercheure au CREST et chercheure affiliée au CEPR.

Les travaux de Pauline ROSSI sont à l'intersection des questions de développement et de l'économie de la famille et portent notamment, dans un cadre pluridisciplinaire associant démographie, sociologie et biologie, sur le rôle joué par les incitations économiques et les interactions sociales dans la fécondité et la mortalité des individus caractérisées par des méthodes innovantes (micro-économétrie, méthodes expérimentales). Elle examine les facteurs de l'accroissement de la population en Afrique subsaharienne, avec une fécondité qui reste élevée et une mortalité infantile qui baisse rapidement. Elle s'intéresse également aux rapports entre vieillissement et flux migratoires parmi les pays occidentaux et en Asie. Au-delà de ces recherches, elle a également mené des activités d'expertise dans les pays en développement, en Afrique et en Amérique latine (Banque Mondiale, BIT, AFD).

Pour le financement de ses recherches, Pauline Rossi a reçu en 2022 une bourse ERC Starting Grant sur la thématique « Peers and Possible Partners : Exploring the Origins of Population Long-term Equilibria »[1].
Dans le cadre de leur nomination, Pierre Boyer et Pauline Rossi ont répondu aux questions du journal Le Monde, dans des articles parus le 22/05/2023 :
Le CREST se réjouit de la nomination de ses deux chercheurs pour leur nomination et félicite les deux collègues économistes lauréats du Prix, Julia Cagé et Vincent Pons.
Source : https://lecercledeseconomistes.fr/evenements/prix-du-meilleur-jeune-economiste-2023/
[1] Funded by the European Union (ERC, P3OPLE, 101039252). Views and opinions expressed are however those of the author(s) only and do not necessarily reflect those of the European Union or the European Research Council Executive Agency. Neither the European Union nor the granting authority can be held responsible for them.