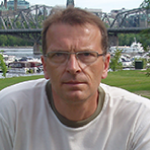 Time Series Analysis
Statistics
Econometrics and Finance
Christian FRANCQ started as an Assistant Professor in Applied Mathematics at the University Lille I from 1990 to September 1998. He became full Professor of Mathematics at the University Littoral-Côte d'Opale from September 1998 to September 2002, and at the University Charles-de-Gaulle Lille 3 since september 2002. He was a member of the CNRS delegation in 2010-2011, and has joined the ENSAE-CREST since September 2011 on secondment.