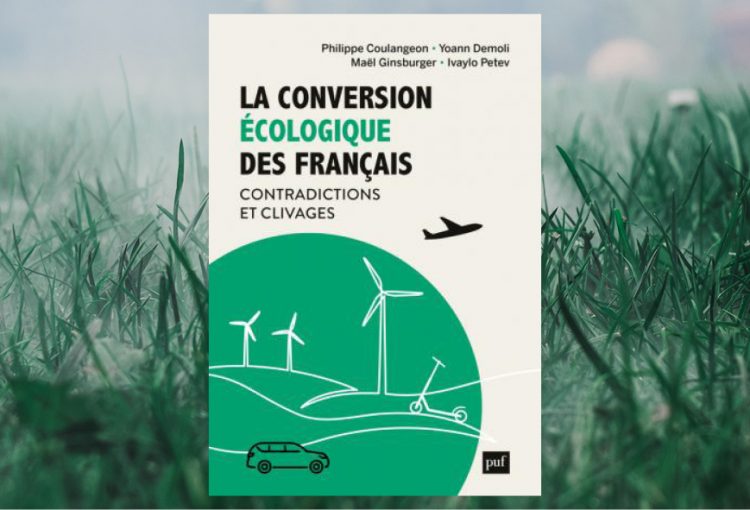 Parution de l'ouvrage "La conversion écologique des Français, contradictions et clivage" co-écrit par Ivaylo Petev, Philippe Coulangeon, Yoann Demoli et Maël Ginsburger, publié aux PUF.
Résumé:
À partir des données d'une enquête menée auprès d'un échantillon représentatif de la population française en 2017, ce livre analyse les dimensions sociales et politiques de la transition écologique. Il souligne la diffusion large mais inégale des préoccupations environnementales. Il montre que la prise de conscience des enjeux ne s'accompagne pas nécessairement de l'adoption de pratiques orientées vers la sobriété et la préservation de l'environnement. Quatre configurations idéal-typiques ressortent de cette articulation problématique des attitudes et des pratiques : « consumérisme assumé », « éco-consumérisme », « éco-cosmopolitisme » et « frugalité sans intention ». Cette typologie suggère la complexité des arbitrages associés aux politiques de la transition écologique, qui articulent des enjeux de justice sociale et d'efficacité environnementale. Ces arbitrages, qui mobilisent l'incitation ou la contrainte, n'opèrent pas de simples choix techniques. Ils s'inscrivent dans le cadre des fractures sociales, économiques, culturelles et territoriales qui traversent la société française et mettent en jeu des intérêts divergents qui en illustrent la dimension proprement politique.
Discipline:
Sociologie et Sciences de l'éducation
Date de parution:
04/01/2023
Autour des auteurs
Ivaylo Petev est chargé de recherche en sociologie au CNRS et membre du Centre de recherche en économie et statistiques (CREST) à l'ENSAE, au sein duquel il dirige le laboratoire de sociologie quantitative.
Philippe Coulangeon est directeur de recherche en sociologie au CNRS et membre du Centre de recherche sur les inégalités sociales (CRIS) de Sciences Po.
Yoann Demoli est maître de conférences en sociologie à l'université Versailles Saint-Quentin en Yvelines et membre du laboratoire PRINTEMPS.
Maël Ginsburger est doctorant en sociologie au Centre de recherche sur les inégalités sociales (CRIS) de Sciences Po.
Retrouvez le livre sur le site des Presses Universitaires de France:
https://www.puf.com/content/Les_candidats
La presse en parle:
Presse écrite:
L'Obs – 16 janvier 2023
https://www.nouvelobs.com/ecologie/20230116.OBS68378/les-francais-ne-sont-pas-d-affreux-hypocrites-qui-se-declarent-soucieux-du-climat-avant-d-acheter-un-suv.html
Politis – 18 janvier 2023
https://www.politis.fr/articles/2023/01/ecologie-contradictions-individuelles-et-crise-culturelle/
Futuribles – 27 janvier 2023, analyse du livre
https://www.futuribles.com/la-conversion-ecologique-des-francais-contradictions-et-clivages/
Le Monde – 16 février 2023
https://www.lemonde.fr/idees/article/2023/02/16/la-conversion-ecologique-des-francais-eclaire-la-question-des-inegalites-face-a-la-crise-climatique_6162059_3232.html?utm_medium=Social&utm_source=Twitter#Echobox=1676546212
Marianne – 28 février 2023
https://www.marianne.net/agora/lectures/une-societe-divisee-face-a-la-crise-climatique-on-a-la-conversion-ecologique-des-francais
Vidéo:
Sciences Po – 7 février 2023
https://twitter.com/CRIS_SciencesPo/status/1623004354021142535
Radio:
France Inter – 6 février 2023
https://www.radiofrance.fr/franceinter/podcasts/la-terre-au-carre/la-terre-au-carre-du-lundi-06-fevrier-2023-4998001
Radio Escapades – 7 février 2023 – 61 mn
https://www.radioescapades.org/la-tete-dans-letagere/
A great economic theorist, Roy Radner, passed away on October 6, 2022
CREST Working Papers Series No. 2023-01
by Michael Florig and Olivier Gossner
Paola Tubaro et Juana-Luisa Torres-Cierpe répondent au journal l'Humanité – Lundi 2 Janvier 2023
Félicitations à Thibaud Vergé, qui vient d'être nommé vice-président de l'Autorité de la concurrence.
Forthcoming Article, co-written by P.C. Boyer, F.J. Bierbrauer and E.Hansen in Econometrica, The Journal Of The Econometric Society.
The lecture will be given by Olivier Loisel, Julien Prat and Giovanni Ricco

The department of Economics of IP Paris is honoured to invite you to a Nobel Prize in Economics hybrid lecture, open to all, on the 16th of January 2023 from 12:15pm to 1:45pm to present the contributions of this year's three recipients "for research on banks and financial crises":
Ben S. Bernanke
Douglas W. Diamond
Philip H. Dybvig
The lecture will be given by Olivier Loisel (CREST & ENSAE), Julien Prat (CREST-X) and Giovanni Ricco (soon CREST-X).
It will be accessible to a broad audience of researchers and students.
The lecture will be in a hybrid format from both Amphi 200 in the ENSAE building and online on Zoom.
Zoom link: https://zoom.us/j/92507835603?pwd=elRhNjMwbk1rMXRpZ0dEeTdzZXhmUT09
We are very much looking forward to seeing you!
"Faut-il indexer la rémunération des dirigeants sur l'atteinte d'objectifs #rse?" Réponse de Patricia Crifo dans la dernière Note IPPn°85
"Toward a better understanding of AI algorithms". Arnak Dalalyan, professor at ENSAE Paris and director of the CREST, revolves around statistical methods for machine learning. He is going to further develop those methods in his project with Hi! PARIS entitled "Statistical Analysis of Generative Models: Sampling Guarantees and Robustness (SAGMOS)".
"Semi-supervised learning in insurance: fairness and active learning", thèse de doctorat de l'IP Paris préparée à l'ENSAE et soutenue en juin 2022.