Creating a sustainable global food supply chain: the WINnERS Project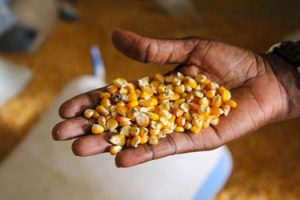 Background
By 2050, the world will be home to some 9.7 billion people and it is expected that food production will need to double by this time to accommodate this steep rise in population. Over half of the world's crop production is produced by smallholder farmers, yet these farmers, particularly those based in Sub-Saharan Africa, are trapped in a cycle of low crop productivity. While the yields of the major breadbaskets of the world have stagnated or declined in the last decadeiv, increasing production by smallholder farmers is key to achieve global food security.
The reasons for this low productivity are manifold but largely can be traced back to adverse and extreme weather disruptions, such as droughts or floods endured by these farmers.
For smallholder farmers to create long-term deals with buyers, they need to guarantee crop yield by purchasing products such as fertiliser and pesticides from input providers. To do this, the farmers need investment capital which, in the clear majority of cases, they do not have. They are unable to obtain a loan from the bank, as the investment is deemed to be too high-risk, because they perhaps lack an adequate credit history or an ability to post cash collateral. Thus, smallholder farmers continue to grow low-risk, low-return crops that do nothing to help to break their cycle of vulnerability.
A new 'big data' smart de-risked supply chain
The WINnERS project, supported by the EIT ClimateKIC, has developed a new technology based on big data, supercomputing, and satellite data, to build a new financial instruments that enable to derisk the participation of smallholder farmers in local to global supply chains, as well as to derisk the supply chains of banks, food buyers, and retailers to weather risk. The approach developed in the project enables to quantify the risk of weather variability – the first source of risk of crop loss – affecting crop yields. The product developed by the WINnERS project enables to manage risk efficiently and to align all supply chains incentives in increasing the resilience and productivity of crop production.
In the new supply chains created, all stakeholders have an incentive to increase resilience and productivity that directly translates in higher profitability for all.
The Tanzania launch, and beyond
The WINnERS project has partnered with the World Food Programme's Farm to Market Alliance in order to derisk all supply chains developed within this initiative to enable to bring smallholders to market. An initial product was successfully launched in January 2017v enabling to insure 40,000 maize smallholder farmers. MunichRe, the world's largest reinsurance company, engaged in a partnership with WINnERS to provide Tanzania a country-level risk transfer facility.
The technological innovation brought by WINnERS enables to increase the cost-efficiency and create incentives to increase the resilience and productivity of crop production. After the successful launch, WINnERS will design the risk transfer mechanism for over 20 countries as part of the Farm to Market Alliance expansion over the next five years.
In addition to its partnership with the Farm to Market Alliance, WINnERS is working with several stakeholders ranging from Sainsbury's, Rabobank, and Syngenta, as well as with leading global (re)insurance companies to design new food supply chain derisking solutions and financial instruments that will enable to increase global food system climate resilience and productivity.