CREST (Center for Research in Economics and Statistics) is a joint research center gathering the faculty members of ENSAE, ENSAI and Ecole Polytechnique Economics Department. An interdisciplinary Center focused on quantitative methods applied to the social sciences, CREST comprises four sub-areas: Economics, Statistics, Finance-Insurance and Sociology.
The common culture of CREST is characterized by a strong attachment to quantitative methods, data, mathematical modeling, and the continuous back-and-forth movement between theoretical models and empirical evidence to analyze concrete economic and societal problems. This approach, in line with the DNA of the CREST founding schools, thus embraces the goal of the founding members of the Econometric Society "to promote studies that aim at a unification of the theoretical-quantitative and the empirical-quantitative approach to economic problems and that are penetrated by constructive and rigorous thinking similar to that which has come to dominate in the natural sciences" (Ragnar Frisch, Econometrica, 1933).
In addition to the scientific output of its members, an important stake for the Center is the spin-off of its scientific culture and expertise through doctoral training. It is precisely one of the objectives of the "Paris-Saclay Master in Economics" and associated PhD program, jointly offered by Ecole Polytechnique and ENSAE, in cooperation with HEC-Paris, ENS Cachan and Université Paris-Sud, to train young economists and attract the brightest students not only from the founding schools but also from the best universities worldwide.
Just 20 km south of Paris on a site spanning almost 160 hectares, the CREST can be reached from several access points.
The reception service
The reception service of CREST is located in the hall of the ENSAE building, accessible from Avenue Fresnel.
The reception service welcome visitors on weekdays from 8 am to 6 pm and can be reached at +33 (0)1 70 26 67 00.
They are responsible for welcoming, informing and guiding visitors. They can also accompany them, if necessary, to their meeting places. They help with taxi bookings and lost items management as well.
The site
CREST – UMR 9194
5, Av Henry Le Chatelier
91120 Palaiseau,
FRANCE
Visit through Google Maps: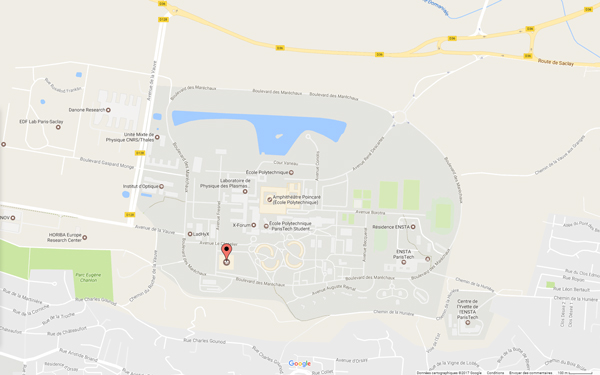 Access using public transport
2 itineraries are possible: from the Massy-Palaiseau station or the Lozère station.
Connecting buses link the station to the campus.
Access by road
From the Porte d'Orléans or Porte d'Italie: by the A6 highway.
From the Pont de Sèvres : by the N118.
Consult the traffic status in real time.
Local airports
– Orly airport (via the RER B and Orly Val)
– Roissy-Charles de Gaulle airport (direct by the RER B)
– Villacoublay airport
– Toussus-le-Noble business airport
Download the map of airports, stations and RER stations.